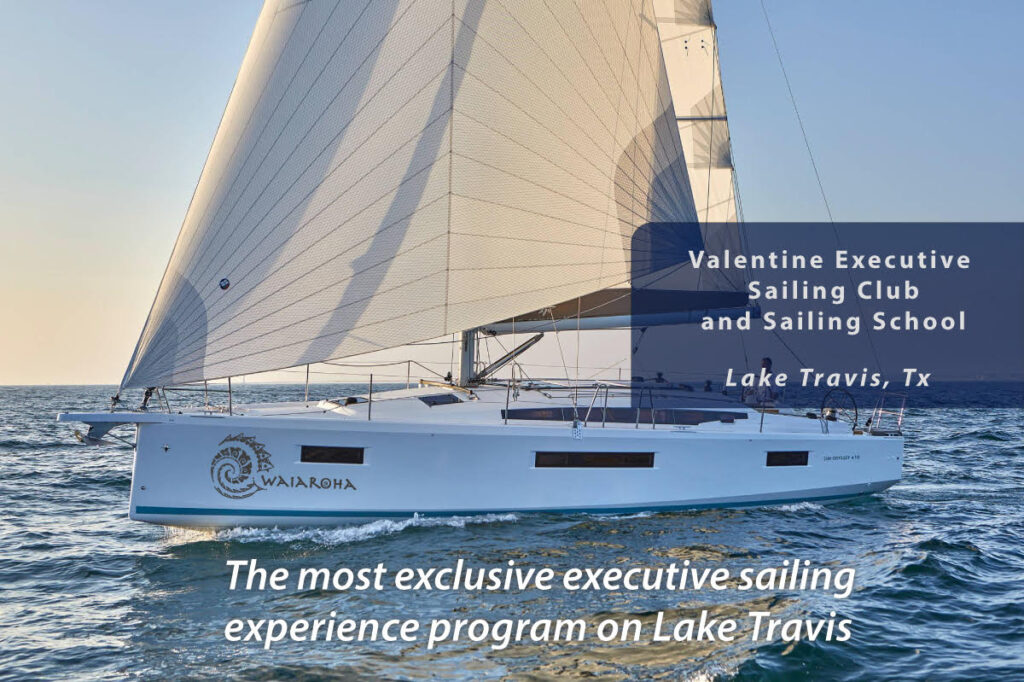 You love water, you love family, you love unique experiences…
You are successful and busy and have always wanted a new top of the line yacht to enjoy with family and friends while gaining large keelboat experience locally so that you can extend your adventures around the globe. You also have high standards and want your boat impeccably maintained. Your solution is an exclusive club and an executive sailing training school in one.
Exclusive Club
As a member of the Valentine Sailing Club, you will enjoy owner level access to a brand new 2020 Jeanneau Sun Odyssey 410 without the costs and hassles of ownership.
Use this luxury sailboat as if it was your own, go sailing with friends, family, or coworkers, dock at lakeside restaurants, entertain clients, or anchor and hang out in a cove.
To book your sailing adventure, we have an online scheduling system. In addition to unlimited immediate access, you have a guaranteed minimum number of days sailing each month. Schedule part of a day, a full day, a weekend, or even a whole week.
With a very limited set of members, you will be part of a very exclusive group. Keeping the number of members small helps to ensure the sailboat is available when you want to use it.
No mortgage, no-slip fee, no insurance, no maintenance, no repairs. All this at a cost that's not much more than the slip fee alone. If you are considering buying a boat, joining is a no brainer. Why spend $350,000+ on a boat plus maintenance and slip fees when you could have the same thing for so much less, and have no hassles?!
Executive Sailing Training
Our sailing training program uses the 21st-century NauticEd program to deliver training to the highest standards. NauticEd is a US Coast guard and internationally recognized sailing training body. On Waiaroha, our modern fully appointed sailboat, we prepare you for bareboat chartering anywhere in the world.
When you charter a boat in an exotic location, chances are it will be a new modern sailboat design. With dual rudders, dual helms, a bow thruster and modern electrical systems. On Waiaroha you will learn about how to successfully operate all these systems to ensure that your vacation in an exotic location is full of fun for you and your guests and not the stress of learning new unfamiliar systems.
Join Now
The process to get started is simple:
Contact us to set up a time to tour the boat
Schedule a sailing competency check ride
Sign-up for a one of the limited number of membership spots
Go sailing!